To the CrossTies Web-Site!! We are a bluegrass gospel band from Texas! On this site you can read our latest CD reviews, email us, order our material online through PayPal.com,know our tour schedule and see our faces!
CrossTies was formed in April 1989 and has paid alot of dues! The band is made up of Jim and Karina Glaspy, along with Billy C. Graham and Kenneth Gashette. The first album, "Come Unto Me", came out 10 years after the band started (1998). "Come Unto Me" recieved some international airplay and great reviews. In 2000 we released our second album, "Family Reunion". "Family Reunion" has been a gigantic success for us! The reviews were excellent and within the first 3 weeks the song "Lover of My Soul", written by Robert "Bob" Wallace, debuted at #16 on the European Christian Country Charts! For more info about both of the albums see our discography page!!!!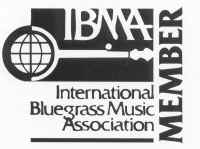 CrossTies became a member if IBMA in 2001.

Everybody's job desciption is.....
Jim Glaspy-lead guitar, banjo, dobro,lead and background vocals, songwriter Karina Glaspy-bass, lead and background vocals,songwriter Ken Gashette-rhythm guitar, background vocals Billy C. Graham-fiddle, mandolin,background vocals